The ever-popular Lymm Duck Race is once again on the Easter Monday bill (April 21st) and organisers Lymm and District Round Table are expecting another great turnout.
The race, once again sponsored by the Co-Op store on Cherry Lane, begins at 12.30pm and there will be a return for the 'Easter Food Fest' on Henry Street car park – next to the youth and community centre – comprising a range of stalls offering food to eat on the day or to take home. The food fair, along with all the usual children's entertainment and stalls, will be open from 10.30am.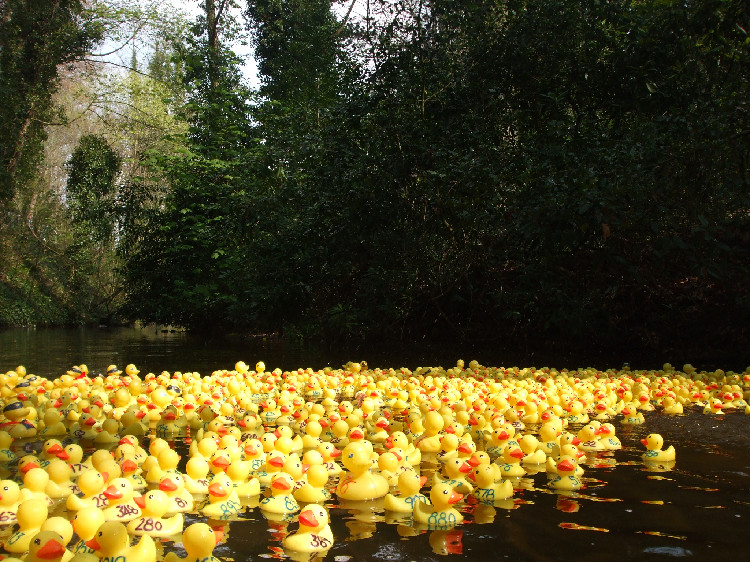 "The Duck Race has become an essential family event for the local community and this is one of the reasons why we manage to raise plenty of money for charity," said Jon Beesley, Round Table member. "We also rely on the support of local businesses either as main event sponsors who will get great exposure before, during and after the event, or corporate and super duck sponsors. As with last year, the owner of the winning super duck will be able to nominate a charity that we will donate £1000 to, with £250 going to the charity of choice of the corporate duck winner too."
Racing duck tickets can be bought online at www.lymmduckrace.co.uk – normal duck tickets are priced at £1, with corporate ducks £30 and super ducks £60. The first normal racing duck over the line receives £100, second place £50 and third £25.
Alternatively, tickets are on sale by The Cross, Lymm, on the four Saturdays preceding Easter Monday and you can also buy them on the day.
If you are interested in sponsorship or have an idea for running a stall, then contact Jon on 07557 022071 or sponsorship@lymmduckrace.co.uk