Live in or around Lymm?
Want new mates and a busier social life?
Interested in helping your community?
Fancy doing something different?
Then read on… Or stay stuck in your rut!
Lands End to John O'Groats in a day!
Find out more about our latest fundraising effort, a whopping 874 miles in a day!
Who and What are We?
Lymm & District Round Table is a laid-back club for blokes aged 18 to 45 that meets up twice a month for fun nights out and a beer or three. Take a look at our Calendar page to see what we're getting up to this year.
We are a relaxed bunch of guys from all walks of life. Our members include engineers, medics, teachers, marketers, IT guys, lawyers, council workers and others. We even let Yorkshiremen and Welshmen join!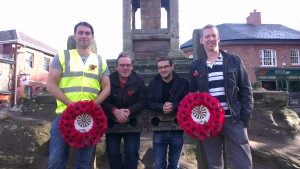 In addition to the drinks and activities, we organise 4 big events in Lymm to raise money for local charities and community groups.
Who and What we're not?
We're not a secret society with strict rules, dodgy handshakes and arcane initiation rites. We don't wear suits or uniforms to meetings and do not require compulsory attendance.
We all have other commitments and take part as much or as little as our lives allow.